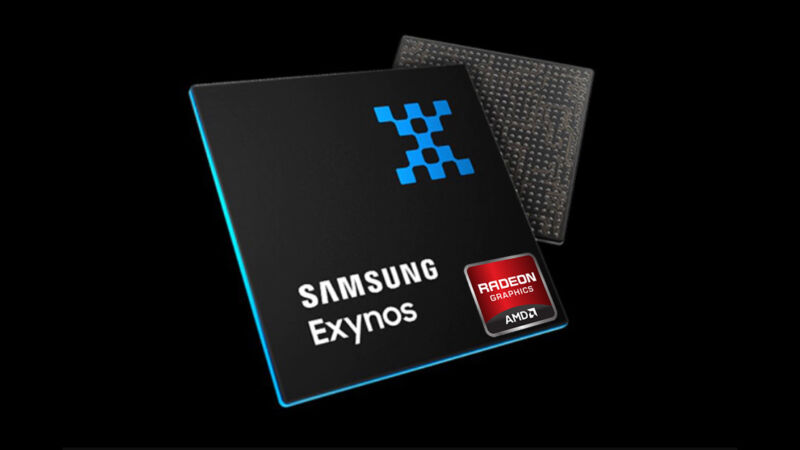 Samsung Electronics and AMD are extending their smartphone chip agreement. In a press release today, the two companies said they "signed a multi-year agreement extension to bring multiple generations of high-performance, ultra-low-power AMD Radeon graphics solutions to an expanded portfolio of Samsung Exynos SoCs." Even Samsung is reluctant to use Samsung chips these days, so it's not clear what devices these AMD GPUs will land in.
Samsung's chip division and AMD have already done a generation of an Exynos SoC with an AMD GPU. That chip was the Exynos 2200, with its "Samsung Xclipse 920 GPU" that was co-developed by AMD. Samsung's phone division—which doesn't necessarily have a bias toward the chip division's products—shipped that chip in the S22 in some regions like Europe, while shipping the S22 with Qualcomm chips in other regions, like the US and China. Exynos chips have a bad reputation for constantly having lower performance compared to Qualcomm chips, and the Exynos 2200 was no exception. The chip didn't do well against the Snapdragon 8 Gen 1 in benchmarks and power usage, and Samsung fans once again had to deal with getting "inferior phones" depending on what country they lived in.
The one win the Xclipse GPU had over Qualcomm was in ray tracing. In today's four-paragraph press release, Samsung and AMD point out twice that "Xclipse was the industry's first mobile GPU with hardware-accelerated ray tracing." Samsung's 2022 chip is better at ray tracing than Qualcomm's 2023 chip! The problem is, being an early adopter of ray tracing isn't really relevant for mobile gaming. Mobile games are built for a causal audience and target mass-market hardware. With the need to also balance battery life, that market doesn't value high graphics fidelity. As you can see with Lenovo killing off its gaming smartphone line, the attempts to bring hardcore gaming values to smartphones have not found a huge audience.
Samsung's chip division brands these Exynos chips in line with the phones from Samsung's phone division, but the two groups don't see eye to eye on the chip's market viability. While only a portion of the Galaxy S22s shipped with Exynos 2200 chips, the Galaxy S23 skipped the Exynos 2300 entirely and went all Qualcomm, in every region. The Exynos 2300 is rumored to still exist and might debut in some special "Fan editions" of Samsung's products, which always feel like they are built out of spare parts. Exynos and AMD are both clinging to smartphone relevance, and it's not clear if this partnership will have any customers.
The line about bringing Radeon graphics to "an expanded portfolio of Samsung Exynos SoCs" might get the two companies some design wins. Samsung's phone division still ships Exynos chips on mid- and low-end devices, so maybe that's where we'll start to see Radeon tech hit the market. It doesn't make a ton of sense to bring high-end desktop features to mid-range mobiles, but the two companies are probably desperate for any kind of market share.