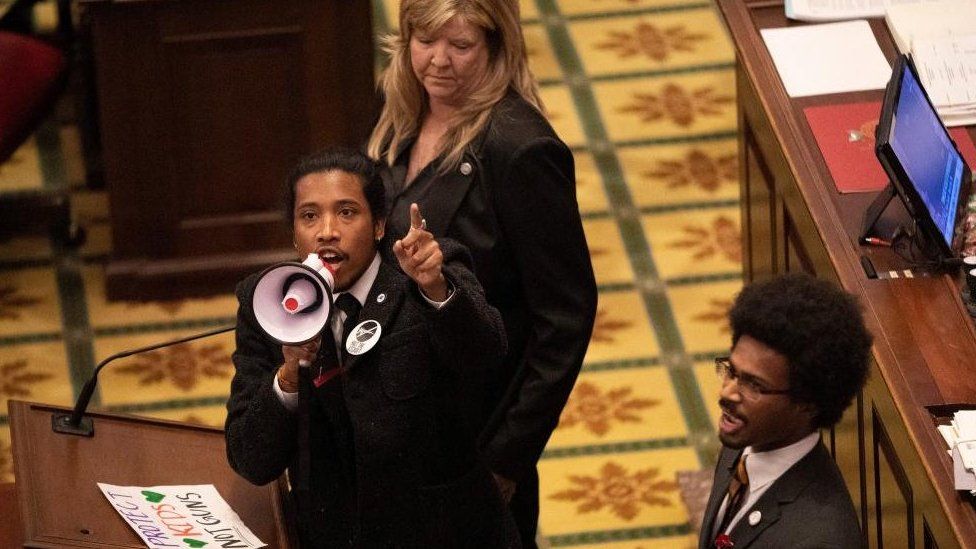 Three Democratic lawmakers in the state of Tennessee face a rare expulsion vote for participating in gun control protests after the deadly Nashville school shooting.
Hundreds had marched to the Tennessee State Capitol last week calling for stricter gun laws.
Tennessee Republicans have accused the protestors and the Democratic House members of disruption.
Six people, including three children, were killed in the 27 March shooting.
On Thursday, the Tennessee House of Representatives will vote on a resolution filed by the Republican leadership to expel the three Democrats from their seats in the state legislature for "disorderly behaviour".
The Democrats - Gloria Johnson, Justin Jones and Justin Pearson - interrupted House proceedings on 30 March to join protestors at the state Capitol.
During the protest, Mr Jones held a sign that read "protect kids, not guns", and also led protest chants, shouting "no action, no peace" into a megaphone.
Mr Jones and Ms Johnson were stripped of their committee assignments in the aftermath by the Republican leadership. Mr Pearson did not serve on any committee.
Collectively, the three Democrats represent about 200,000 constituents in Tennessee.
The resolution to expel the lawmakers says they brought "disorder and dishonour to the House of Representatives through their individual and collective actions".
Expulsion votes are exceptionally rare. In Tennessee, the House of Representatives has only voted twice since the Civil War to expel a member - one for a sitting lawmaker who was convicted of soliciting a bribe, and another for a majority whip who was facing allegations of sexual misconduct.
The move has been criticised by Tennessee's branch of the American Civil Liberties Union (ACLU) as an "extreme measure".
"Trying to expel three lawmakers without due process for amplifying the voices of their constituents in a peaceful, non-violent manner undermines democracy," said Kathy Sinback, the executive director of Tennessee's ACLU in a statement.
Ms Johnson said an expulsion vote would have a "chilling effect" on states beyond Tennessee.
"This is chipping away at our democracy, there's no question, because everybody's going to wonder, 'am I next?'" Ms Johnson told Politico.
Republican House speaker Cameron Sexton, who said he will vote in favour of the expulsion, argued the move is not about the right to protest, but rather about maintaining order in the legislature.
"Their actions are and will always be unacceptable, and they break several rules of decorum and procedure on the House floor," Mr Sexton wrote on Twitter.
"In effect, those actions took away the voices of the protestors, the focus on the six victims who lost their lives, and the families who lost their loved ones."
Two-thirds of the House must vote in favour of the expulsion in order for it to pass.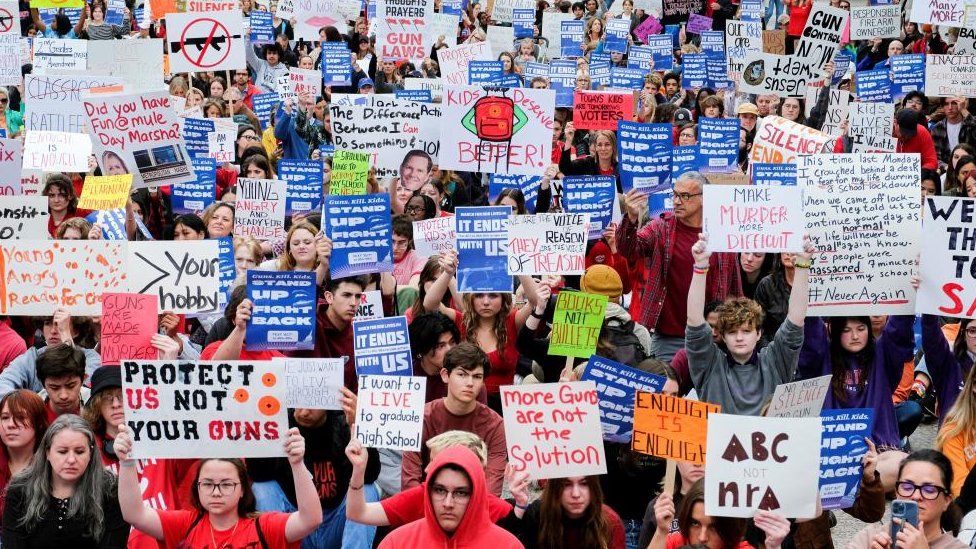 Following last week's protest, a national demonstration calling for stricter gun laws took place on Wednesday, where students across the US staged a school walk-out in light of the Nashville shooting.
"We want to get a good education, but we can't if we're getting put at harm by just going to school," Ellie Holmes, a high school student in Colorado, told BBC's US news partner CBS.
The protests come amid the release of new details on the Covenant School shooting by Nashville police, who said on Monday that the shooter fired 152 rounds and that the attack was planned "over a period of months".
Three staff members of The Covenant School- Cynthia Peak, 61, Katherine Koonce, 60, and Michael Hill, 61 - were killed, along with three nine-year-old students: Evelyn Dieckhaus, Hallie Scruggs and William Kinney.
Police have identified the shooter as 28-year-old Audrey Hale, a former student at the private Christian school.
A manifesto by the shooter had been recovered by police, but they have yet to determine a motive.
They added that Hale "acted totally alone", and that the shooter had considered carrying out other mass murders.
Hale was killed after a confrontation with police 14 minutes after the shooting began.
Funeral proceedings for the victims began on Friday and continued into Wednesday.
The shooting has once again ignited a heated political debate in the US on gun laws and safety.
President Joe Biden, a Democrat, has called for a ban on assault weapons.
Tennessee Governor Bill Lee, a Republican, proposed $155m (£120m) to place an armed security guard at every public school in Tennessee and to boost security presence at both public and private schools.