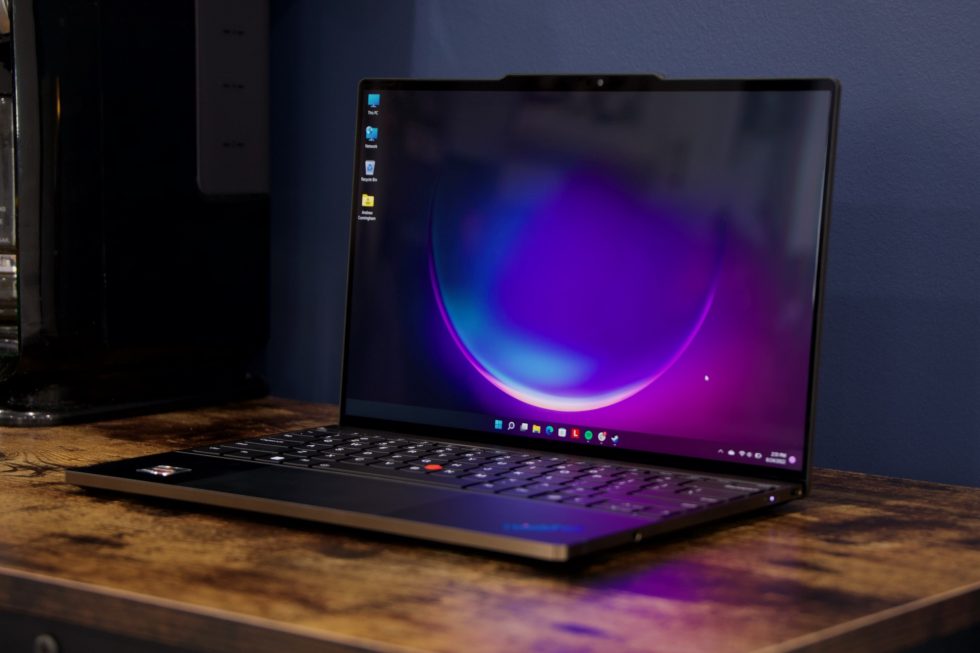 Specs at a glance: Lenovo ThinkPad Z13 Gen 1
Display
13.3-inch 1920×1200 touchscreen (170 PPI)
OS
Windows 11 Home
CPU
AMD Ryzen 7 Pro 6850U (eight cores)
RAM
16GB LPDDR5 6400 (soldered)
GPU
AMD Radeon 680M
Storage
512GB NVMe SSD
Networking
Wi-Fi 6E (802.11ax), Bluetooth 5.2
Battery
51.5 Wh
Ports
Two USB 4.0 Type-C
Size
7.86 x 11.59 x 0.55 inches (200 x 295 x 13.99 mm)
Weight
2.78 lbs (1.26 kg)
Warranty
1-year
Price as reviewed
$1,852
From the basic, boring E-series to the premium X-series, Lenovo's ThinkPads rarely surprise you with their designs. By and large, they are intentionally unremarkable, with straightforward (and sometimes boxy) frames and unassuming black finishes.
So when Lenovo departs from this basic template, as it has for the new ThinkPad Z13 Gen 1, it's worth talking about. The Z13 is recognizable as a ThinkPad, but it has eccentric flourishes like brushed gold accents and a vegan leather lid. There's also a less-flashy gray aluminum version, if a business laptop with gold accents and vegan leather feels less "stylish" and more "dad's midlife crisis" to you.
Hands-down the most impressive thing about the Z13 is its Ryzen 6000 CPU and integrated Radeon GPU. I began testing the Z13 at around the same time as I was being underwhelmed by the 12th-generation Intel processors in the Framework Laptop and Lenovo's own X1 Carbon Gen 10, and the Ryzen CPU is just better than Intel's by just about any conceivable metric. But my reaction to the laptop that has been built around this chip is more reserved.
Look and feel
Andrew Cunningham

Andrew Cunningham

Andrew Cunningham
The Z13 is less dogmatically ThinkPad-y than something like the X1 Carbon, and that starts with the materials. The recycled aluminum palm rest and bottom of our review model are familiar enough, but they lack the soft-touch coating that the Carbon has—on balance, I don't mind this because the Z13 isn't nearly as much of a fingerprint magnet as the Carbon is. The bronze-y highlights and faux-leather lid feel more like something you'd find in an HP laptop. But neither looks or feels bad, and the soft leather material didn't scratch or scuff as easily as I was worried it would (at least in the short term).
But once you get past the sturdy construction, some of the handy additions we like about other ThinkPads are either missing or diluted here. The webcam shutter in most ThinkPads is absent, and you only get a pair of USB 4 ports, one on each side (along with a headphone jack). That's not a lot of ports, but it's in line with what you get from a MacBook Air or MacBook Pro, and it's actually better than what the newest Dell XPS 13 models (the 9315 and 9320) offer; they both drop their headphone jack for reasons defying explanation.
Andrew Cunningham

Andrew Cunningham
But by far the biggest disappointment is the keyboard. It certainly looks a lot like the standard ThinkPad keyboard, but compared to the one in the X1 Carbon (and most others I've used in the last few years), its key travel is much shallower, and its keys are much firmer. That combination of "firm but shallow" isn't quite as bad as Apple's failed butterfly keyboard experiment, but that's the keyboard it reminds me the most of. And as with that keyboard, I got used to typing on the Z13, but I never loved it.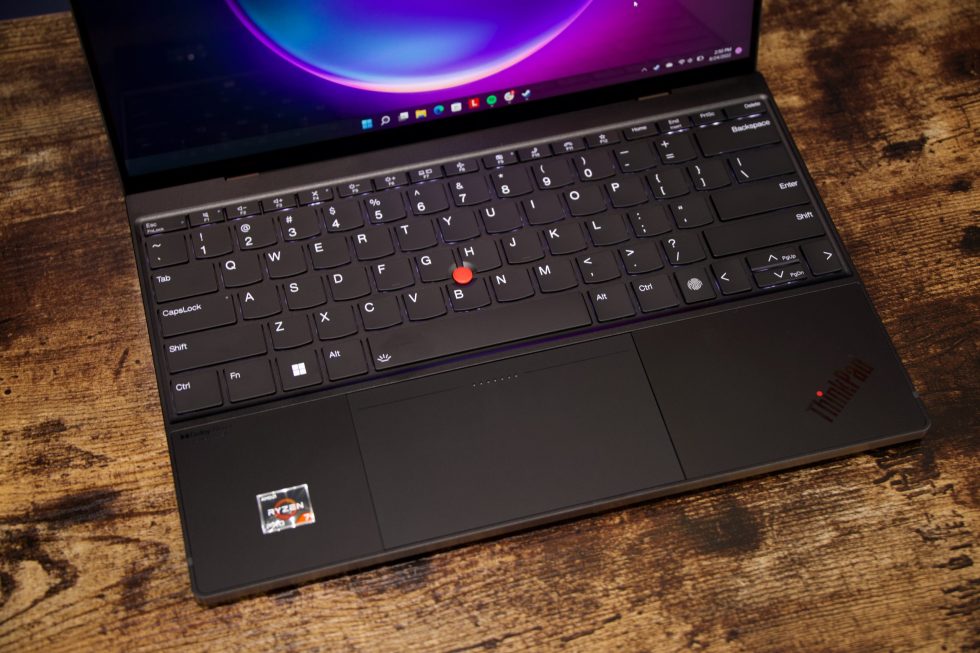 The Z13 is a physically smaller laptop than the X1 Carbon, so I could forgive it for having a worse keyboard in the interest of saving space, but the teeny-tiny ThinkPad X1 Nano also manages to fit a good, more traditional-feeling keyboard in a small laptop. It's too bad, because better input devices would take the Z13 from the realm of "mostly good" to "really excellent."
The trackpad is also Apple-y, in that it doesn't physically move. As in modern MacBooks, haptic feedback is used to generate the sound and sensation of a physical click, freeing up a small amount of physical space in the laptop for more components, better cooling, or a larger battery. It also makes the sensation of clicking the trackpad feel the same no matter where you click it, whereas a physical trackpad offers a deeper click toward the bottom but gets shallower as you move upward toward its hinge.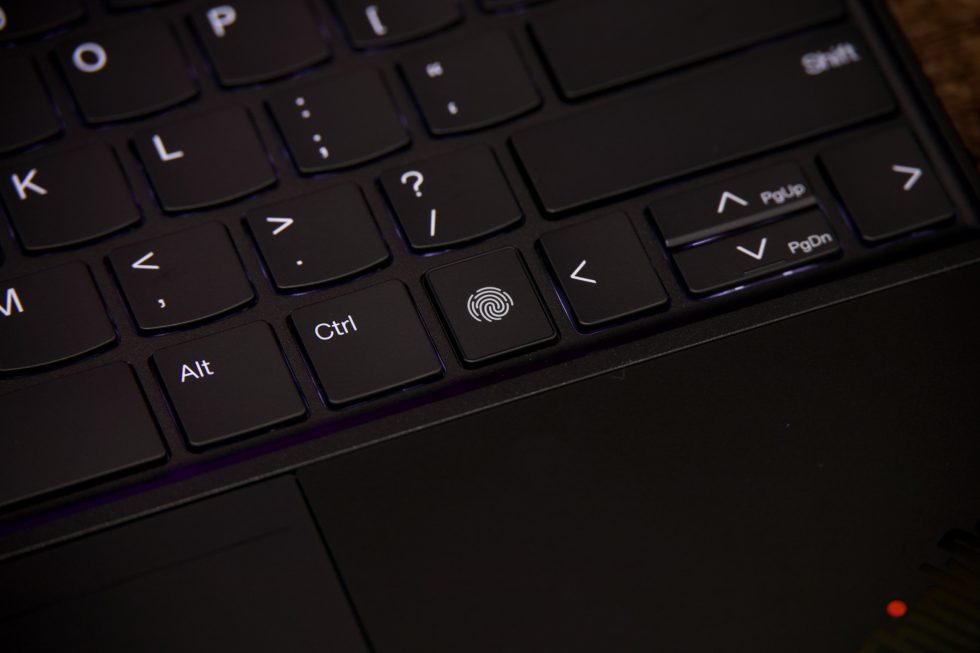 I actually mostly like Lenovo's haptic trackpad implementation, though I can't quite get it exactly the way I want it. I don't think the default amount of haptic feedback is strong enough. Turning that feedback up to the maximum level in the Windows settings makes it feel much better, but it also makes the "click" much louder. As far as I can tell, there's nowhere in Microsoft's or Lenovo's settings to enable a "silent click" option like Apple offers in MacBooks for people who want a lot of feedback but less noise. All of these complaints are subjective—your idea of "firm enough" or "too loud" could be a lot different than mine. Just bear in mind what can be tweaked (feedback force) and what can't be (noise).
For TrackPoint aficionados, the more glaring issue might be a lack of physical buttons for the red pointing nub. By default, the top part of the trackpad is programmed to behave the same way as these physical buttons do on a normal ThinkPad, but even at its firmest feedback setting, the haptics can't replicate the feel of actual buttons. People who don't care about the TrackPoint nub can turn this feature off, though, reclaiming that "button" space as regular trackpad space. Finger tracking is fluid and accurate, and I had no palm-rejection issues while typing.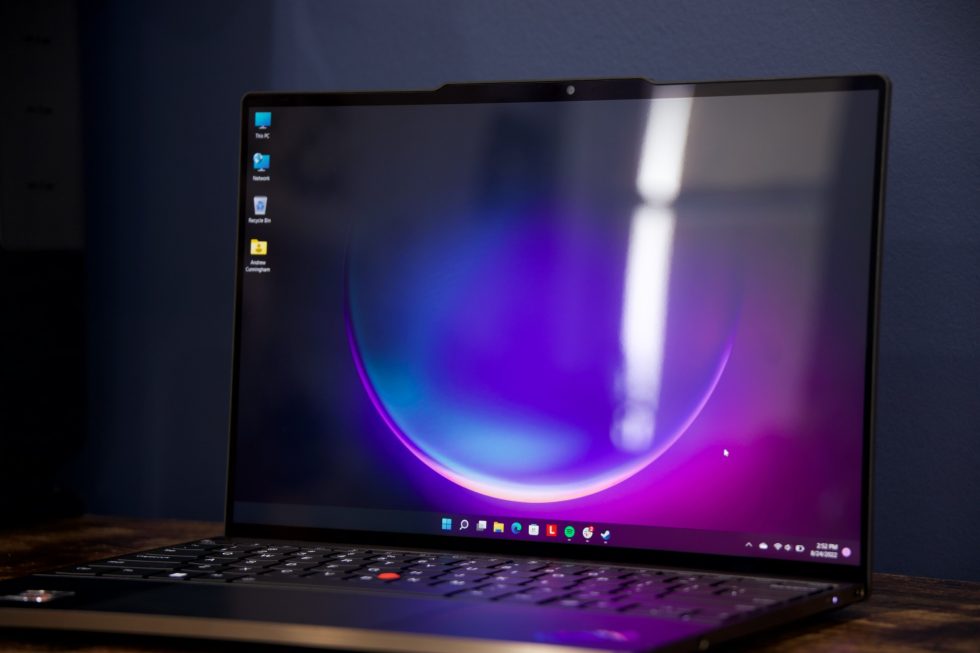 Lenovo offers three 13.3-inch display options on the Z13: a 1920×1200 non-touch IPS screen, a 1920×1200 IPS touchscreen (this is the one we tested), and a 2880×1800 OLED touchscreen option. All are 16:10 displays with more usable space than the 16:9 laptops that were more common a couple of years ago, and all promise a maximum brightness of 400 nits (ours actually measured at 448, a bit brighter than promised).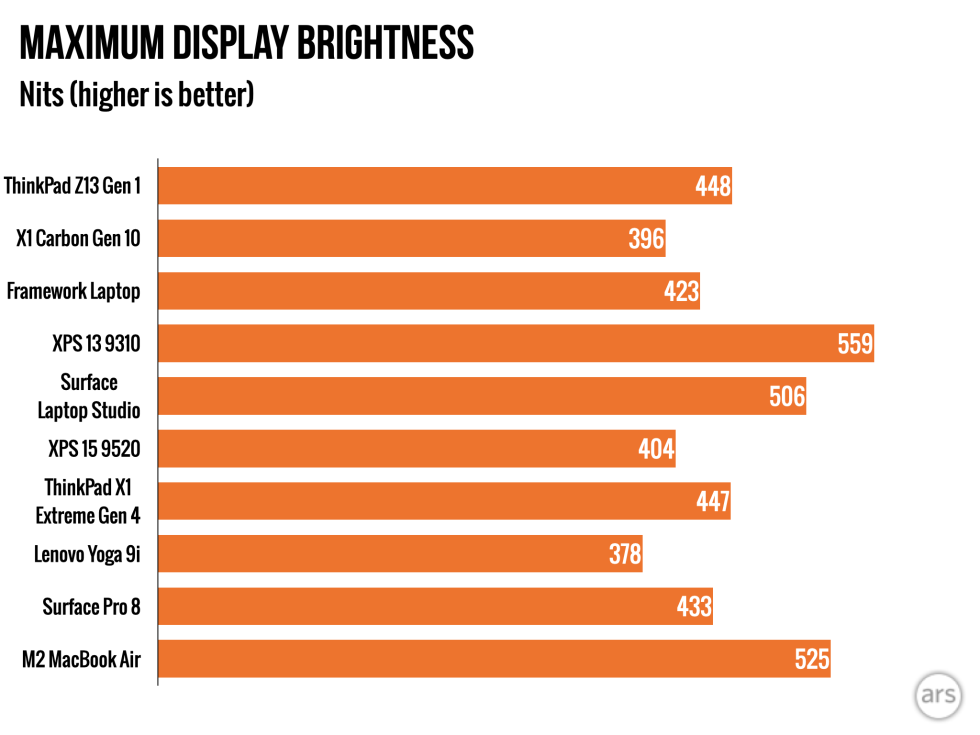 The non-OLED touchscreen on the Z13 has a more-than-respectable 1618:1 contrast ratio, 99.9 percent sRGB gamut coverage, and 80.9 percent DCI-P3 gamut coverage, according to our i1Display Studio colorimeter, and it looks great most of the time. But despite Lenovo's anti-reflective coating, reflectivity can be a problem outdoors or in brightly lit rooms if you aren't careful about how you're sitting or how the display is angled.
Performance: It's great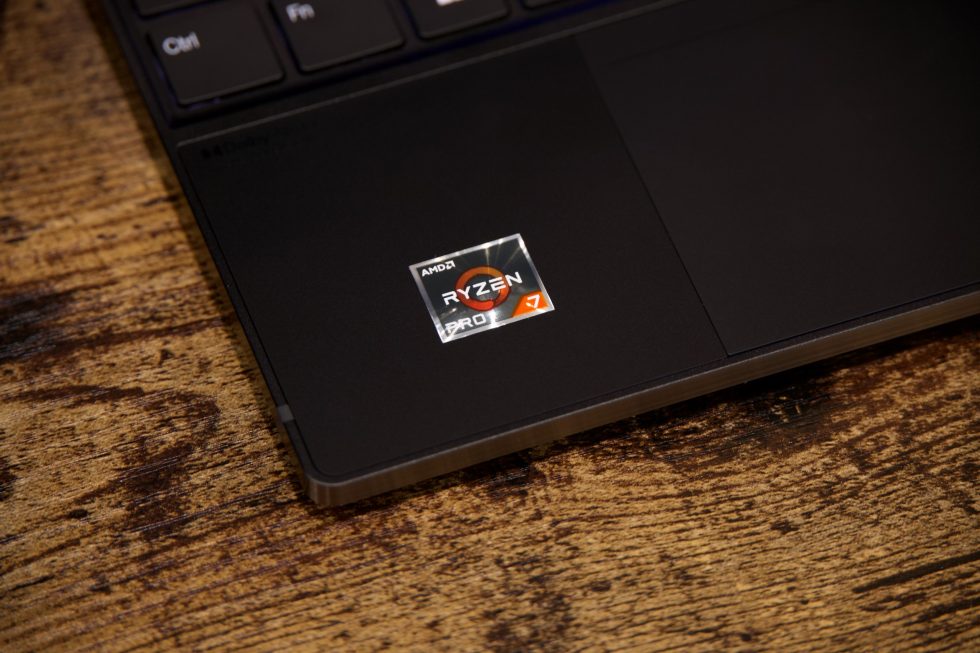 My ambivalence about the keyboard, the ports, and the screen reflectivity is almost—almost!—offset by the excellent performance offered by the Z13's processor, in our case, an eight-core AMD Ryzen 7 Pro 6850U.
Ryzen 6000 takes a more power-efficient revision of the Zen 3 CPU cores from the 5000 series and marries them to some of the advancements from the upcoming 7000-series, including mandatory DDR5 RAM support and integrated GPUs based on AMD's latest RDNA2 graphics architecture. The result is a fast, power-efficient chip with genuinely decent graphics performance. Not only is the processor faster than Intel's 12th-generation laptop CPUs a lot of the time, but it also blows the battery life from the Intel chips clean out of the water.
We compared the 6850U and the Z13 to the following systems:
In less-intensive CPU benchmarks (and in general day-to-day use) the Ryzen and Intel chips don't look or feel all that different. Their top-line performance in Geekbench and the single-threaded version of Cinebench are pretty similar. But the Ryzen processor decisively beats Intel's in two situations: in tasks where all CPU cores are being used for more than a couple of minutes, as in the Cinebench multi-core test and our Handbrake video encoding test, and when power efficiency is important, like when the laptops are using a Balanced power profile instead of a Best Performance profile. Intel's CPUs need a lot of power to perform their best, and that's reflected in our battery tests.
AMD is also quite a bit faster than Intel when it comes to integrated graphics performance. While the 11th and 12th-gen Intel CPUs use essentially the same Iris Xe GPU (and the upcoming 13th-gen CPUs are quite likely to do the same), AMD's chip finally upgrades the aging Vega GPU architecture for the two-generations-newer RDNA2 architecture. The Z13's Radeon 680M doesn't include nearly as many GPU cores as the Radeon 6000 desktop GPUs, an Xbox Series S or X or PlayStation 5 console, or even the Steam Deck, but its eight GPU cores are more than enough to play plenty of games at lower settings and resolutions. Especially for games that employ AMD's FSR 2.0 upscaling tech, modern games can look downright decent at low-to-medium settings.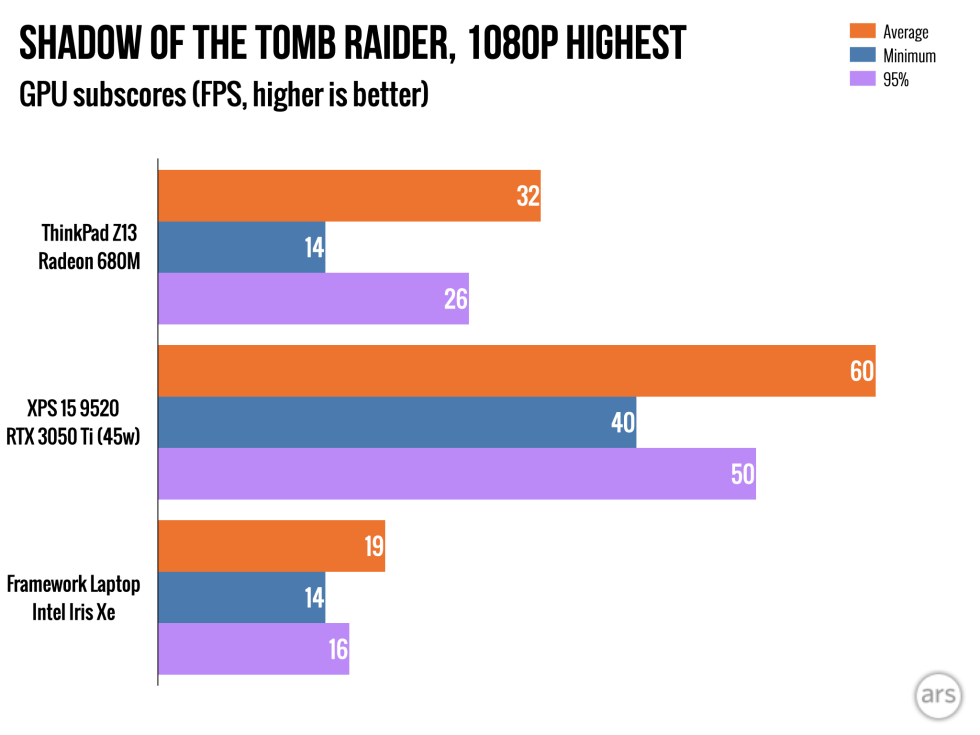 We ran the Shadow of the Tomb Raider benchmark on the Z13 to compare it to an entry-level dedicated GPU like the 3050 Ti in the XPS 15. The low-end dedicated GPU is around twice as fast as the Radeon 680M, but that's still a pretty impressive showing for an integrated GPU. Compared to Intel's Iris Xe, the Radeon 680M's average is a whole lot closer to 30 fps, and you'll be able to run most games at playable frame rates while making fewer sacrifices to visual quality.
Battery life: also great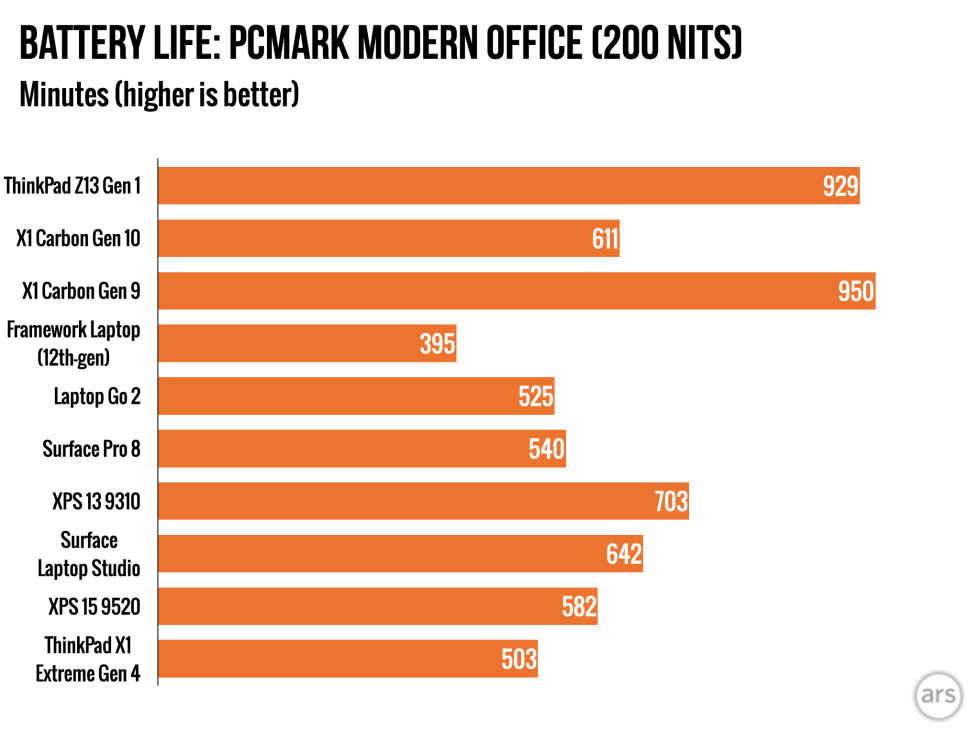 For 12th-generation Intel laptops, a generally positive performance section is usually followed by a less-than-glowing battery life discussion. The X1 Carbon with the 12th-gen CPU in it only lasted about two-thirds as long in our battery test as a nearly identical X1 Carbon with an 11th-gen CPU in it, and we've seen that same dynamic play out for the Framework Laptop and elsewhere.
Fortunately, Ryzen 6000 doesn't seem to have this problem. It lasted upwards of 15 hours in our PCMark battery test, matching the result from the X1 Carbon Gen 9 with the 11th-gen Intel CPU in it. That's doubly impressive given that the Ryzen 6850U's CPU and GPU performance is quite a bit better and that the Z13's 51.5 Wh battery is a hair smaller than the Carbon's 57 Wh battery (though the Z13's screen is a little smaller, too).
Too bad about that keyboard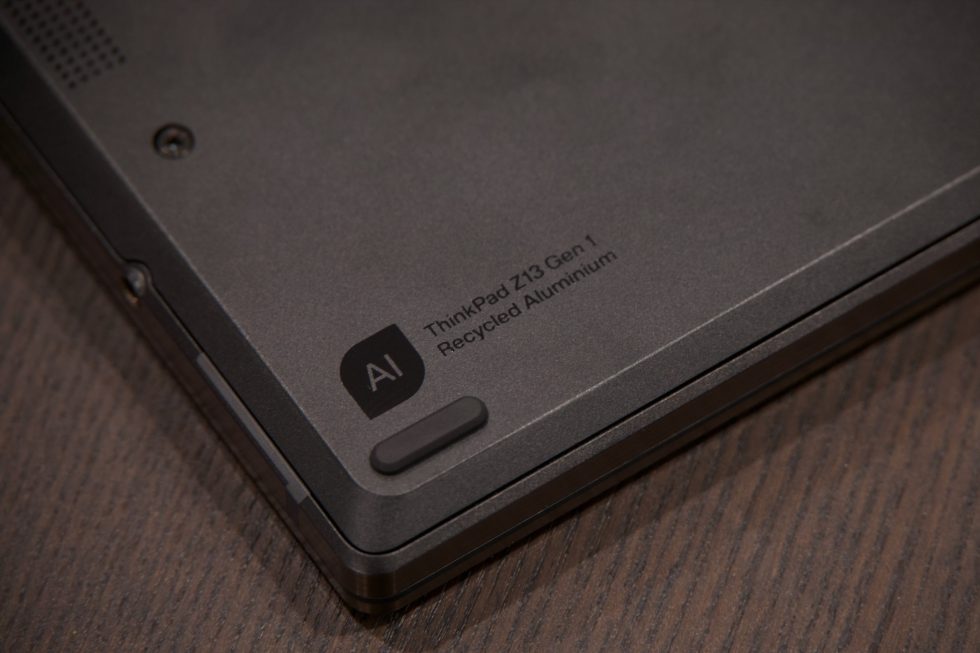 I wish I liked the rest of the ThinkPad Z13 Gen 1 as much as I like the performance and battery life.
It's not a bad laptop, and it's possible that I'm being more critical than I should be because it comes so close to being great and settles for "good enough." The relative lack of ports, the missing webcam cover, the haptic trackpad, and the glossy screen are all things I could look past, but the stiff and shallow keyboard is a big letdown. Dell and Apple both do a better keyboard in their 13-inch ultraportables, and the keyboards that Lenovo ships in other ThinkPads are much better. You'll spend most of your time with a laptop using the keyboard, so it's an important thing to get right.
Pricing is also an issue, though this can be hard to pin down given the volatile nature of PC prices and the way Lenovo's website makes everything look like it's always on sale. Comparing Lenovo's site and third-party retail listings, you'll pay somewhere between $1,600 and $2,100 for a Z13 with 16GB of RAM, 512GB of storage, and a 6- or 8-core Ryzen CPU depending on the screen and finish you choose, which isn't absurd compared to a similarly specced M2 MacBook Air but is quite a bit to pay for a PC laptop.
The ThinkPad T14s Gen 3 may be a better place to look if you want Ryzen 6000 for a lower price in a more traditionally ThinkPad-y wrapper, with a better keyboard, more ports, and a physical trackpad with dedicated TrackPoint buttons. (I haven't used or reviewed this specific model, but I've used multiple versions of the T14 and T14s in the recent past and they haven't changed much since then.) The Z13 has a more eye-catching design and a more compact frame, but its execution falls just short of greatness.
The good
Excellent performance that can beat Intel's 12th-gen CPUs at most things while still providing great battery life
Nice step up in integrated graphics performance, making it a decent lightweight gaming laptop in a pinch
Good ThinkPad build quality with some interesting design touches (if you don't like them, the plain silver version is more straightforward)
Nice, bright screen
The bad
Limited port selection, though you at least get a headphone jack and USB-C ports on both sides of the laptop
Missing webcam shutter that is present in other ThinkPads
I found the haptic trackpad to be either too stiff or too loud, depending on how I set the strength of the haptic feedback
Expensive for a PC
The ugly
Keyboard isn't up to Lenovo's usual standards and is way too reminiscent of Apple's stiff, shallow 2016-era butterfly switch MacBook keyboard
Ars Technica may earn compensation for sales from links on this post through affiliate programs.
Listing image by Andrew Cunningham
Get CyberSEO Lite (https://www.cyberseo.net/cyberseo-lite) - a freeware full-text RSS article import plugin for WordPress.